Biannual Camp Reports

NSW Bird Atlassers hold Autumn and Spring field survey camps. Each camp is notified in our newsletter and on the website and are always held in a different part of NSW. Contact the Activities Officer to obtain further information about specific camps.
Before attending any field surveys, please ensure you are wearing appropriate clothing, suitable footwear and have ready access to wet weather gear. It is advisable to wear a hat (or have one available) as well as sunscreen, insect repellent and carry water.
Also see the NSWBA Sub-group contacts for particular NSW areas: here.
2023 Autumn Camp Report
It has been a year since our last Atlas camp, the delay being due to flooding in western NSW.  So, it was heartening to see 17 very keen Atlassers arrive at Bourke for the 2023 Autumn Camp.  A few (humorously) expressed a concern that their birding skills might be a little rusty!
However, we managed to report a total of 132 species for the camp which commenced on 24th and ended on the 28th April.  A total of 37 ten minute blocks were surveyed.  Many waterbird species were to be found throughout the area, with large numbers of juvenile birds being evident.
Each morning we would gather to discuss who would go where to atlas that day.  This attracted the attention of one resident who volunteers for the local community radio and newspaper.  He set about organizing a photo for the paper and "spreading the word" on local radio.  Thanks John. As a result, some Atlassers where warmly received by property owners who allowed their entire properties to be atlassed.
Some species highlights included Pink-eared Duck, Great Crested Grebe, Black-breasted Buzzard, Black Falcon, Owlet Nightjar, Splendid Fairy-wren, Crimson and Orange Chats, Woodswallows – White-breasted, White-browed, Black-faced, and Little, and Red-capped and Hooded Robins.
Each evening atlassers gathered for the highlight of the day – "happy hour", which included the "daily bird call" (the reporting of species seen that day). The bird call can be a bit tricky because if a species was called the previous evening, then it is not called again!  It keeps one on their toes!!The 2022 AGM was also held during this camp, having been postponed from the cancelled 2022 Spring Camp.
Autumn 2022 Camp at Hillston

The Autumn camp was held at Hillston in central NSW.  Between 28th March and 1st April, 20 atlassers took part in surveying 37 ten minute blocks for a total of 157 species recorded, 5 of which were recorded as breeding.  The breeding species included Great Crested Grebe, Little Black Cormorant, Black Swan and Australasian Darter. All were recorded at Lake Brewster, 40 km west of Hillston.
Highlights for the species recorded include Stubble and Brown Quail, Blue-billed Duck, Spotted Harrier, Red-chested and Little Button-quails, Turquoise Parrot, White-fronted Honeyeater, Red-lored and Gilberts Whistlers, Hooded Robin, Golden-headed Cisticola and Zebra Finch.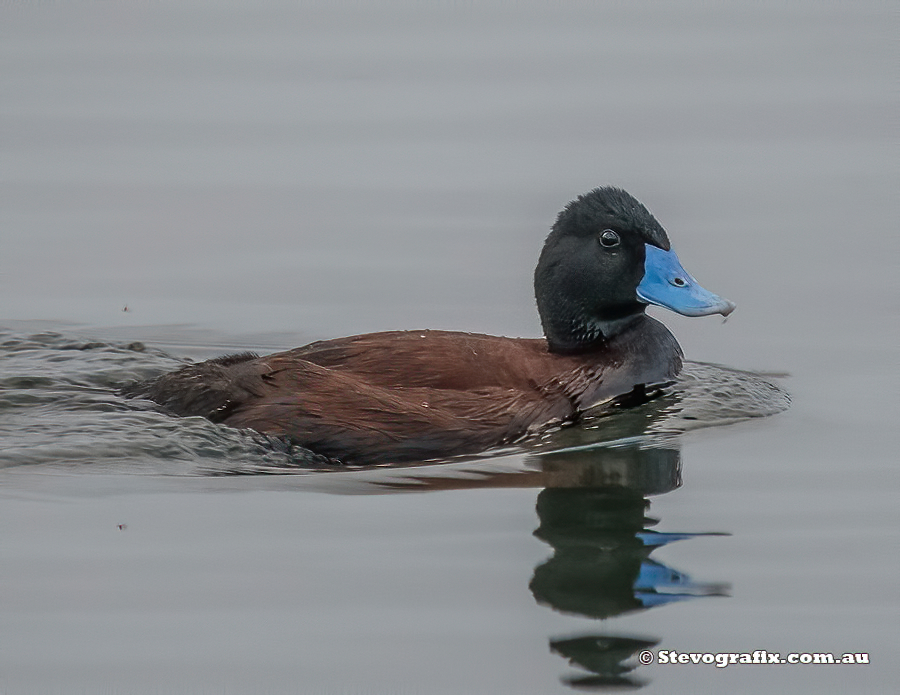 During the camp a Special General Meeting was held to consider the recommendation of the Committee to award Honarary Life Memberships to Rod Cox, Ian Mc Allan and Brian Curtis.  The meeting unanimously accepted the Committee's recommendation.
2021 Spring Camp at Nyngan
The NSW Bird Atlassers 2021 Spring camp was scheduled for October and was centred on the township of Nyngan in the central west of NSW. As the time for the camp drew nearer, parts of the state were in covid-19 "lockdown" and it appeared that the camp would not go ahead. However, with a week to go, NSW Health advised that those residing in the Greater Sydney area would remain in "lockdown", whilst the remainder of the state was free to travel, provided they were "double vaxxed ". Yippee!! (Sorry Sydneysiders).  This decree resulted in 19 double vaxxed Atlassers attending the Nyngan camp.
The plan was to survey 35 ten minute blocks around Nyngan, but with 19 atlassers it would take a couple of days to complete, instead of the five days planned.  So, the number of blocks completed totalled 40 and 148 species in total were reported.  Those species reported as breeding totalled 24. There was a dearth of finches and other small birds presumably the result of the recent drought.
White-browed and Masked Woodswallows were the most numerous species, being seen in large mixed flocks in most 10 minute blocks. Fairy Martins were the next numerous species seen flying around and under culverts and bridges next to water sources.
Highlights included Magpie Goose, Pink-eared Duck, Tawny Frogmouth, Spotted Harrier, Australian Spotted Crake, Banded Lapwing, Major Mitchell's Cockatoo, Budgerigar, Horsfield's Bronze-Cuckoo, Splendid Wren, Crimson Chat, Orange Chat, White-fronted Chat, Horsfield's Bushlark and Diamond Firetail.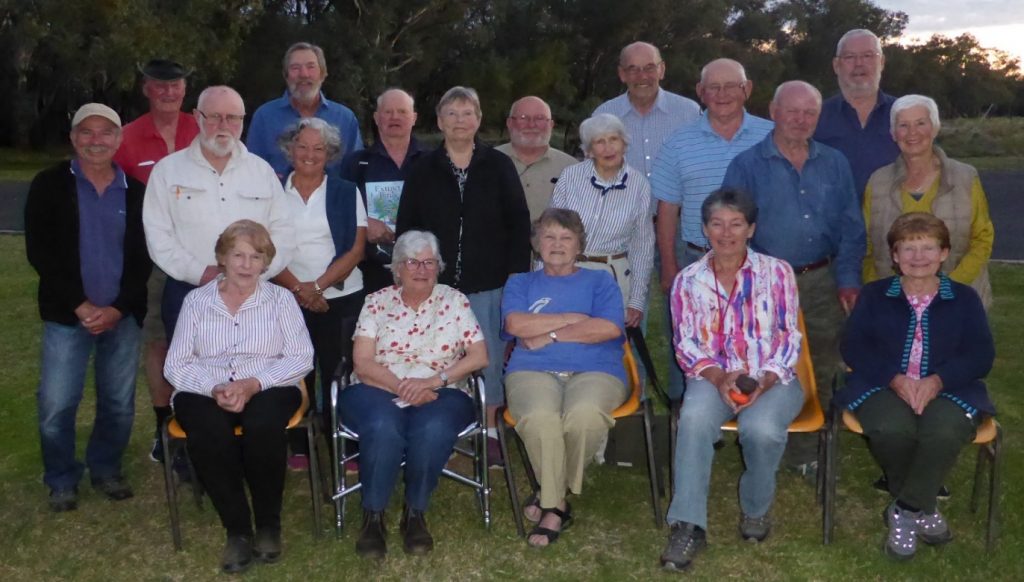 Photo: Rod Cox
Atlassers at Nyngan 2021 Spring camp
Back row: Andrezj Karpiel, Jon Grainger, Don Howarth, Ray McLean, Bernard Ambrose, Dick Cooper, Rod Cox.
 Middle row: Michael Moody, Andrew Ley, Joanne Grainger, Ann Mannion, Jane Paul, Ron Broomham, Helen Stevens.
Front row: Margaret Howarth, Beth Ley, Barbara Cooper, Donna Moody, Margaret Broomham.
Rod Cox
Activities Officer
2021 Autumn Camp at Coonamble

The base selected for the Autumn Camp was Coonamble, situated in the central west of NSW. Several weeks before the camp, reports of a mouse plague in the area began to surface, as well as a locust plague! A week out from commencement the BOM forecast torrential rain for the region!! Not an auspicious start to the camp. What to do? The decision was to leave early to assess the situation.
On arrival at Coonamble it was established that the mouse and locust plagues had basically been a beat-up by the media. The BOM forecast was for the middle of the week, so a couple of days clear would allow atlassing. But, the torrential rain arrived 48 hours early, resulting in most dirt roads being closed and water over main roads. No safe atlassing was possible. The camp was cancelled.
Frantic phone calls were made to those stalwart members on their way to Coonamble in order to prevent them driving into the dangerous situation. Most advised that they were stuck at home anyway (particularly those on the north coast) due to the downpour and flash flooding.
Eleven atlassers had already arrived at camp and after sitting out a day of torrential rain, it was decided that as most were from the north coast and returning home was not an option, limited atlassing could be confined to sealed roads, with care. As a result, eight 10 minute blocks were surveyed as much as possible, producing a total count of 99 species. Naturally, the home block, Coonamble, produced the highest count of 64 species. Many of these were seen through the panoramic windows of the bowling club!!
Species highlights were Magpie Goose, Plumed Whistling Duck, Red-winged Parrot, Speckled Warbler, Southern Whiteface, plus the ubiquitous White-winged Chough and Apostlebird.
So, the Official Autumn Camp was cancelled due to extreme weather, but the Unofficial Autumn Camp managed to salvage a little something.
Rod Cox
Activities Officer
2020 Spring Camp at Hay
This camp was originally scheduled for the autumn of 2020, however, covid-19 prevented it from going ahead. As restrictions were eased, 12 very enthusiastic atlassers attended the Spring camp at Hay in the Riverina.
Following years of severe drought, the Hay district had received good falls of rain some weeks earlier, allowing the area to be declared drought free. The birds had taken advantage of the rains by breeding over a wide area. Sixteen species were recorded as breeding.
Atlassers surveyed a total of 46 ten minute blocks during the camp. Bird numbers were low in the Hay plains-type vegetation, with numbers of only 8 to 10 species recorded. However, the jackpot was to be found in areas that had retained water and became ephemeral wetlands. Here species numbers reached 50+. The Maude ten minute block had the highest species count at 55.
A total of 140 species were observed during the camp. Highlights were many Emus breeding, Plumed Whistling Ducks, Spotted and Spotless Crakes, Superb Parrot, Southern Boobook, Southern Whiteface, White-fronted Chat, and the following Woodswallows – White-breasted, Masked, White-browed, and Black-faced.
One notable feature was the lack of small birds. Finches of all kinds were missing, as well as a number of honeyeater species one would normally expect to see in this area.
The local population of Hay were on the lookout for atlassers, as we were told by the Information Centre staff that NSWBA was mentioned in the local press and the local radio station.
The Annual General Meeting took place on Thursday 22nd at the South Hay pub.
The camp finale was a sweeping rain storm as atlassers were leaving for home. If the rain had arrived any earlier several atlassers would still be there… bogged!!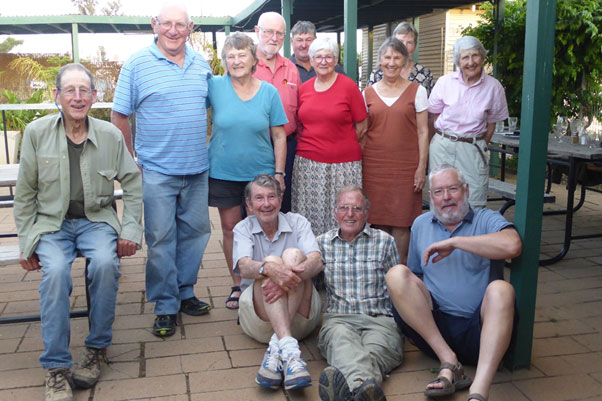 Attendees to the Spring Camp, Hay
L to R:  David Martin, Dick Cooper, Barbara Cooper, Andrew Ley, Lyle Harding, Beth Ley Ros West, Ann Mannion (obscured), Jane Paul. Seated: Ted Nixon, Rob West, Rod Cox.
2020 Autumn Camp at Hay
This was postponed due to COVID-19 until the 2020 Spring camp in October.
2019 Spring Camp at Cranky Rock Warialda

The Spring Camp was based at Cranky Rock Reserve, east of Warialda.  The area was surrounded by degraded lands in all directions due to the devastating drought which has slowly strangled most of NSW and western Queensland.  The locals report that they have been with drought for three years now, and counting.
Atlassing was a challenge as one could drive for many kilometres and not see or hear a single bird, not see a blade of grass, water, or any stock.  Everywhere one looked many trees were dead or dying.  Scattered storms had dropped inadequate rain in some places only to create erosion of paddocks and streams.
Despite all this, 37 ten minute blocks were surveyed yielding a surprising total species count of 168 for the camp!  This is one of the highest species counts for camps since 2015.  The Warialda sewerage ponds provided a good number of water birds, some 25 species recorded there.  Ten species were recorded as breeding, including Emu, Brown Goshawk, Dusky Woodswallow, and Hooded Robin.
Highlights of species observed were Pink-eared Duck, Australasian Shoveler, White-throated Nightjar, Square-tailed Kite, Pacific Baza, Baillon's Crake, Spotless Crake, Red-necked Avocet, Australian Pratincole, Pale-headed Rosella, Red-backed Kingfisher, Yellow-tufted Honeyeater, Ground Cuckoo-shrike, Hooded Robin, and Chestnut-breasted Mannikin.
The NSWBA AGM was held at Cranky Rock Reserve on 17th October, a highlight being the presentation of the John Hobbs Medal, awarded by birdlife Australia to Dick Cooper for his contribution towards Australian ornithology and bird conservation over the past 50 years.
Congratulations Dick!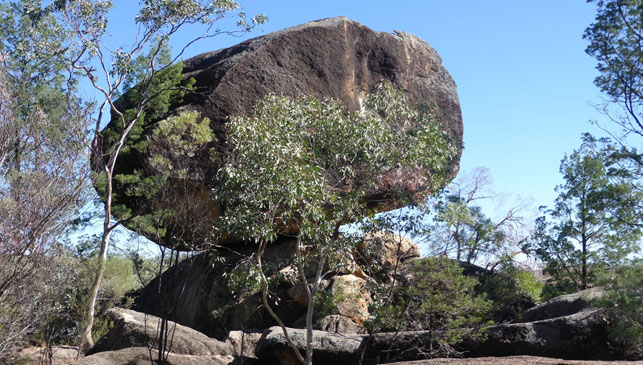 Cranky Rock                                                                                       Photo: Ann Mannion
2019 Autumn Camp at Condobolin Report

The Autumn Camp was held at Gum Bend Lake, 3 kilometres west of Condobolin in central NSW, from 1st to 5th April.
It is well known that 90% of NSW has been badly affected by drought for several years and the Condobolin region is no exception.  The expectation of finding many birds in the barren landscape was low, despite some recent storms which had deposited about 40mm of scattered rain.  Despite the drought, the total number of species recorded for the camp was 133, which is comparable to most camps in better times.
Eight atlassers surveyed 36 ten minute blocks, most of which were severely dry and had not received recent rain.  The highest count of species reported was in the Condobolin block, with 77 species due to the proximity of Gum Bend Lake.  The lowest count was 16 species in the Wilga Trig block, SSW of Condobolin.  Here surface water was almost non-existent.
Highlights of the species reported included Magpie Goose, Great Crested Grebe, Common Bronzewing, Black-tailed Native-hen, Superb Parrot, Barking Owl, Speckled Warbler, White-fronted Honeyeater, Ground Cuckoo-shrike, Crested Bellbird, and Hooded Robin.


Sunset over Gum Bend Lake Photo: Ros West
Report on 2018 Spring Camp at Gulargambone
One hundred and fifty-four species observed, twelve breeding records, and forty-one ten minute blocks surveyed in the Gulargambone area – the results of the 2018 Spring Camp.  Ten members attended the camp centred on Gulargambone Caravan Park.
The area covered ranged from Coonamble in the north, Gilgandra in the south, the Warrumbungle National Park in the east, and the Macquarie Marshes in the west.  This entire region was in drought, and it was most unexpected to find the number and variety of species.
Highlights were Australian Shelduck, Glossy Ibis, Square-tailed Kite, Australian Hobby, Brolga, Spotted Crake, Red-chested Button-quail, Sharp-tailed Sandpiper, Red-necked Avocet, Turquoise Parrot, Barking Owl, Owlet-nightjar, White-winged Fairy-wren breeding, Crimson Chat, Ground Cuckoo-shrike, huge mixed flocks of Woodswallows – (White-breasted, Masked, White-browed, Black-faced, and some Dusky), and Little Crow.
The highest count ten minute block was "Wallamgambone", located in the Macquarie Marshes, with a total of 70 species.  The lowest count was 16 species in the ten minute block "Balagula Lagoon".  Ironically, there was no lagoon to be seen!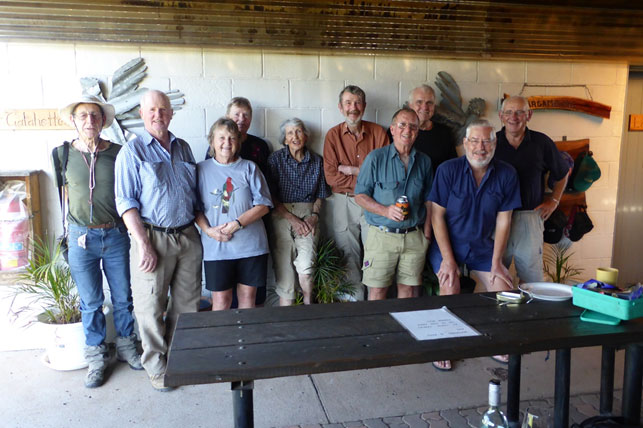 L – R:  David Martin, Don Howarth, Barbara Cooper, Ann Mannion, Jane Paul, Ted Nixon, Bob West, John Pitkin, Rod Cox, Dick Cooper.
2018 Autumn Camp at Weddin Mountains National Park
The 2018 Autumn Camp will be conducted from Monday 30th April to Friday 4th May and our base camp will be located at Ben Halls Campground in the Weddin Mountains National Park, approximately 32km west of Grenfell.
Directions:
On the Mid Western Highway (Grenfell/West Wyalong Road) turn into Back Piney Range Road 5.5km west of Grenfell.  Follow the signs indicating "Ben Halls Cave" for 22.5km to Weddin Bird Trail No 10; turn into the trail and travel 2.6km to a T intersection; turn left and travel for 200m to Ben Halls Campground.
Facilities:
Camping is free.  Facilities include composting toilets, free gas barbeques, picnic tables and shelters, sites for caravans/camper trailers, and plenty of sites for tents.  However, there is no electricity or water.  You need to be self-sufficient for food and water. Open fires are not permitted.  Fuel and groceries can be obtained at Grenfell.
 Survey:
Atlassers will survey 35 ten minute blocks. The Grenfell area has a network of eleven Bird Trails which have yielded 151 bird species, some of which include Spotted Harrier, Little Eagle, Peregrine Falcon, Bar-shouldered Dove, Black-eared Cuckoo, Hooded Robin, Speckled Warbler, and Crimson Chat.
2017 Spring Camp Report
 Wandering Whistling-Duck, Yellow-billed Spoonbill, Square-tailed Kite, Spotted Harrier, Black-tailed Native-hen, Latham's Snipe, Banded Lapwing, Common Bronzewing, Glossy Black-Cockatoo, Musk lorikeet, Pale-headed Rosella, Black-eared Cuckoo, Horsfield's Bronze-Cuckoo, Australian Owlet-nightjar, White-winged Fairy-wren, Speckled Warbler, White-eared Honeyeater, Brown-headed Honeyeater, Painted Honeyeater, Red-capped Robin, White-browed Babbler, Ground Cuckoo-shrike, White-breasted, Masked, White-browed, Black-faced, and Dusky Woodswallows, Little Raven, Little Crow, Spotted Bowerbird, Horsfield's Bushlark, Plum-headed Finch, Rufous and Brown Songlarks.
These were some of the 159 species recorded for the duration of the camp, which was attended by 13 Atlassers.  Our base was on the shores of Yarrie Lake, situated 28 km west of Narribri, and close to the CSIRO Radio Telescope Array.  A total of 35 ten minute blocks were atlassed, covering the northern end of the Pilliga, broad acre cropping, grazing lands for sheep and cattle, and some areas of cotton growing.
On Thursday evening, 26th October, the NSWBA Annual General Meeting was held, followed immediately by gale-force winds and a smattering of rain.  A summary of the AGM matters appears elsewhere in this newsletter.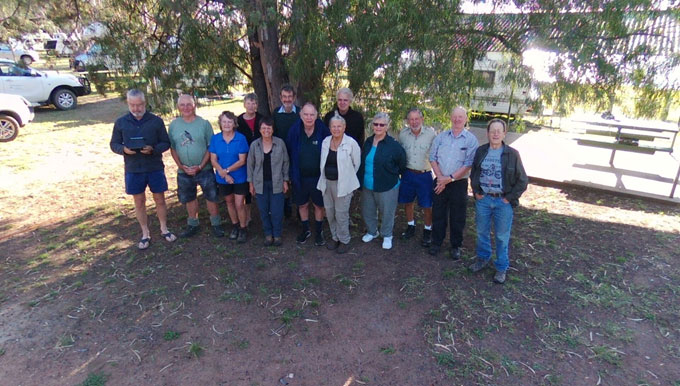 2017 Spring Camp Attendees
L to R:  Rod Cox, Dick Cooper, Barbara Cooper, Ann Mannion, Pam Kenway, Ted Nixon, Tony Burgin, Suzi Burgin, John Pitkin, Helen Canakis, Paul Canakis, Don Howarth, David Martin.
2017 Autumn Camp at Mullumbimby
Our autumn camp was conducted from 1st to 5th May.  Despite torrential rain and major flooding (the aftermath of cyclone Debbie) several weeks before our autumn camp, twelve atlassers arrived in Mullumbimby to survey 20 ten minute blocks bounded by the NSW/QLD border in the north, to Ballina in the south, and from the east coast to Casino in the west and back to the border.
There are many varied habitats in this area ranging from coastal, mountain rain forest, rural land, and intensive macadamia orchards.  Access was to prove a problem, with many roads badly damaged by flooding, some bridges washed away, and landslips on mountain roads, necessitating atlassers to detour many kilometres.  However, 18 ten minute blocks were satisfactorily surveyed producing a camp total of 137 species.
Highlights were Plumed and Wandering Whistling Ducks, Eastern Reef Egret, a breeding record for Royal Spoonbill, 11 species of raptors, 13 species of Doves/Pigeons/Fruit-doves, Forest Kingfisher, Noisy Pitta (rescued unharmed from a domestic cat by locals), Logrunner, and Paradise Riflebird.  The highest count for a ten minute block was the Cape Byron block (28 35/153 35) with a total of 85 species recorded.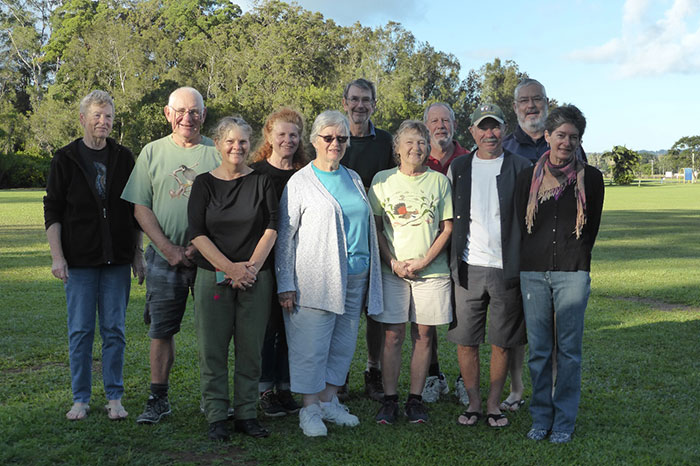 2017 Autumn Camp Atlassers
L – R:  Ann Mannion, Dick Cooper, Tammy Small, Sharryn Brown, Helen Canakis, Ted Nixon, Barbara Cooper, Paul Canakis, Michael Moody, Rodney Cox, Donna Moody.  Absent:  David Martin.
2016 Summer Camp at Batlow
Batlow, best known for producing apples, is a small town situated in the south-west slopes region of NSW, on the edge of the Great Dividing Range at 775 metres above sea level. It was the base for the 2016 Summer Camp held in November.
At the time of the camp the surrounding country was in spectacular condition following a wet winter and there was an expectation of a bumper apple crop due to be harvested around December.
Whilst there were many and varied birds to be seen, it was most notable that waterbirds were few and far between. This was reckoned to be the result of recent flooding in the Lachlan, Murrumbidgee, and Murray River systems, where the waterbirds had gone west to breed in the newly-flooded swamps.
The elevation of the survey area ranged from 232 m above sea level at Gundagai, 305 m at Tumut, 775 m at Batlow, to over 1900 m in the Kosciusko National Park. The snow-covered slopes of the Mount Selwyn skiing area could still be seen from Tumbarumba township. Several ten minute blocks were dominated by pine plantations which produced low bird counts.
Sixteen atlassers and three guests took part in surveying 31 ten minute blocks for a total species count of 159 for the camp, with 21 species recorded as breeding. The highest bird count was recorded in the Tumut block as a result of the Tumut Wetlands at the edge of town.
Species highlights for the camp included Emu, Plumed Whistling-Duck, nesting White-bellied Sea-Eagle, Gang Gang Cockatoo, Superb Parrot, Black-chinned Honeyeater, White-naped Honeyeater, New Holland Honeyeater, Scarlet Robin, Red-capped Robin, Flame Robin, Rose Robin (sadly NOT the Pink Robin), Grey Currawong, Diamond Firetail, Golden-headed Cisticola. The Common Blackbird was recorded in most of the ten minute blocks surveyed.
A special thanks to Gene Vanzella, retired apple grower, ex-Mayor of Tumut Shire, keen nature lover and bird watcher. Gene revealed many of his personal birding spots, and related the history of the region from apple growing and gold mining, to construction of the Snowy Mountains Scheme in the 1950's. Thank you Gene for your hospitality.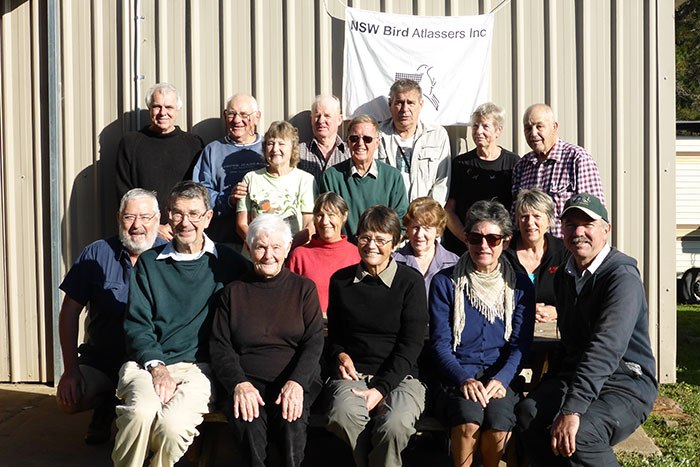 Standing:  John Pitkin, Dick Cooper, Barbara Cooper, Don Howarth, Bob West, Graeme O'Connor, Ann Mannion, Gene Vanzella (guest).
Seated:  Rod Cox, Ted Nixon, June Greene (guest), Ros West, Pam Kenway, Margaret Howarth, Donna Moody, Mandy Wright, Michael Moody.
Absent:  Barbara O'Connor, Lyle Harding.
Rod Cox
Activities Officer
Autumn Camp 2016 Report
We've all heard the saying, "out the back of Bourke". Well, the 2016 Autumn Camp was held there, from 4th to 8th April. Strictly speaking, the camp was south of Bourke at Gundabooka National Park. The aptly-named Dry Tank Campground was the camp headquarters, from where five members ventured out atlassing each day.
The area was well into drought, with no water to be found in creeks or stock dams. Daytime temperatures reached 38C each day, so the few birds about would find a shady spot and shut down. This meant that atlassing was only viable from sunrise until about 9am each day.
Nineteen ten minute blocks were surveyed, ranging from Bourke to Cobar, including Louth (where the local pub produces a very good lunch and has nice, cold drinks). A total of 94 species were recorded for the camp – a very good number considering the conditions. The highest species count for a block was 44 at Bourke. This was a result of water and shade being readily available in the township.
Birds recorded included Emu, Black Kite, Little Eagle, Peregrine Falcon, Red-necked Stint, Red-tailed Black Cockatoo, Major Mitchell's Cockatoo, Mulga Parrot, Australian Owlet-nightjar, Splendid Fairy-wren, Inland Thornbill, Orange Chat, Hooded Robin, Crested Bellbird, Spotted Bowerbird, and best bird of the camp – Australian Bustard.
Thank you to Frank and Wendy Ball, Jane Paul, and Ann Mannion for making the trip "out the back of Bourke", and for their dedication in atlassing in such trying conditions.
Rod Cox
Activities Officer

| | |
| --- | --- |
| Australian Bustard | Photo: Wendy Ball |
If you require more information, contact the Activities Officer, Rod Cox, by phoning
02 6552 7037
 Summer Camp 2015 Report
In a departure from tradition, the first Summer Camp was held in lieu of a Christmas Camp.
Thirteen members gathered at the campsite situated beside the Lachlan River at Euabalong, central NSW, for five days of atlassing the surrounding area. In all, there were 35 ten minute blocks to be surveyed, covering various habitats, including sheep, cattle and grain country, riverine and flood plain, to mallee at Round Hill Nature Reserve.
Grain harvesting was underway in the area and as a result there were eleven species of parrots and cockatoos to be found in large numbers.
Luckily, the heatwave conditions of the days preceding the camp did not continue, with fine weather ranging from high 20's to mid 30's during the days. No rainfall was recorded.
Species highlights were Magpie Goose and Plumed Whistling-Duck at Gum Bend Lake, Condobolin, Baillon's Crake, Australian Spotted Crake, Marsh Sandpiper, Sharp-tailed Sandpiper, Red-necked Avocet, Major Mitchell's Cockatoo, Splendid Fairy-wren, Yellow-rumped Pardalote, Shy Heathwren, Black Honeyeater, Crimson Chat, Orange Chat, Gilbert's Whistler, and Spotted Bowerbird.
In total 37 ten minute blocks were surveyed, with Lake Cargelligo block producing the highest species count of 89. A total of 152 species was recorded for the entire 37 ten minute blocks.
Rod Cox
Activities Officer
2015 Easter Camp Report
Ten intrepid atlassers attended the Easter camp held at Goobang National Park, Wanda Wandong camping area, braving the likelihood of predicted rain for the Central Western Slopes. The camp site was situated at the northern end of the Park, about 60 kms by road SE of Dubbo and was close to sealed roads which made convenient access to most grid blocks. Prior to Easter the entire region was very dry and parched with very little or no water in property dams and creeks.
We were fortunate that for the first three days a little of the much-needed rain fell during the evenings, with some light showers falling around mid-day on Saturday. As a result, for most of Easter we were able to get about and access our ten minute blocks. On the Monday morning the rain started to set in bringing with it a touch of Autumn weather.
Twenty four ten minute grid blocks were atlassed, resulting in a total count of 132 bird species for the camp. Some of the species highlights were: Red-winged Parrot, Superb Parrots (at camp site every day), Ground Cuckoo-shrike, Spotted Harrier, Black Falcon, Red-capped Robin, Speckled Warbler, Southern Whiteface, Varied Sittella, Crested Shrike-tit, White-bellied Cuckoo-shrike, Plum headed Finch, Diamond Firetail, both Grey crowned and White- browed Babblers, both Yellow-billed and Royal Spoonbills, Black Swan (breeding), Pink-eared Duck, Australian Shoveler, Plumed Whistling-Duck, Black-winged Stilts, and Musk Duck, plus a very big Brown Snake at least a 6 footer (not in the Park)!
The grid blocks producing the highest number of species over the camp period were: Tanners Springs (32 35/148 25, home block) 70 species, Lake Endeavour (Parkes water supply dam – 33 05/148 25) 59 species of which 24 were water birds, and Cookamobil Ridge, southern end of the Park (32 55/148 25) 56 species.
Dick Cooper remarked that he was talking to a local farmer in the area who had told him that he had gone out of his way to remove feral cats and retain the undergrowth on his property and now has flocks of > 40 Double-bar Finches. The farmer now recognises the need to retain undergrowth, and advised that his neighbour had similar ideas. This appears to be an encouraging sign that some farmers are concerned about habitat loss on their properties.
Calling every morning and throughout the day at the camp site, in a cacophony of sound, were Noisy and Little Friarbirds feeding on the Ironbark blossom, with occasionally Superb Parrots winging their way through.
The camp site is in a very nice area, clean and infrequently visited, a good spot and very enjoyable. Thanks go to our Activities Officer, Rod Cox and partner, Ann Mannion, (who were not able to attend) for organising the camp.
David Martin
2014 Christmas Camp Report
Seventeen keen atlassers attended the Christmas Camp, based in Barraba, approximately 100km north of Tamworth.  Two months prior to the camp, the area surrounding Barraba had received very little rainfall, and as a consequence, farm dams and local streams were bone-dry.
Day 1, Boxing Day, produced thunderstorms which resulted in a heavy shower for Barraba. Later that night, steady rain began to fall, resulting in the following day (Day 2) being entirely washed out!  On Day 3 of the camp, atlassers braved the scattered showers and muddy roads to venture out and about.  The weather turned cool and fine for the remainder of the camp.
Thirty (30) ten minute blocks were atlassed, giving a total species count for the camp of 174.  Species highlights were Plumed Whistling-Duck, Spotted Harrier, Musk Lorikeet, Turquoise Parrot, Owlet-nightjar, Painted Honeyeater, Hooded Robin, Ground Cuckoo-shrike, Horsfield's Bushlark, and Diamond Firetail.  Black-fronted Dotterel, King Parrot, Noisy Friarbird, Leaden Flycatcher, Magpie-lark, and Fairy Martin were all recorded as breeding. The most numerous and vociferous species was the Rufous Whistler, recorded in every block and heard from sunrise to sunset.
The most productive ten minute block over the six day camp was "Koolgardie Hill"
[30 25/150 25], situated immediately west of Barraba, which totalled 103 species!  Four other ten minute blocks to the north and northwest of Barraba produced a count of over 70 species per block.
Rod Cox
Activities Officer